Electronics has always been my passion remains one of the core parts of what I do. Over the years software has played an ever increasing part of this work and these both now form the bulk of the work I have done and continue to do.
This is quite a long post, skip to the bottom if you just want a summary!
Right from a very early age I've had a keen interest in all things electronic. Much to my mother's displeasure almost anything electrical that was not bolted down was disassembled, examined, sometimes improved and then reassembled, often with a few spares left over for good measure!
When I left school I was lucky enough to get a four year electronics apprenticeship at the Royal Aircraft Establishment (RAE) just outside of Bedford in Thurleigh. Here I progressed from kitchen table electronics to the real electronics world and practices. It was a great place with loads of hands-on practical experience from wind tunnel instrumentation, aircraft avionics, flight systems to fitting PA systems on the airfield fire engines! We also received basic training in many other disciplines around the site.
The apprenticeship was obviously very electronics orientated and several projects where designed from the ground up for use in various departments around the wind tunnel and airfield site.
My next job entailed repairing communication equipment and retail system equipment for a large retail group down to component levels and them putting them through a rigorous and well documented quality check.
From here on things get more technical and much more exciting!
The next company to take me on made large machine tools including laser cutters, water-jet cutters and multi axis routers. I never worked on the routers but was heavily involved in the laser and water-jet systems. These did not involve a great deal of electronics design work but rather the specification of VME based systems and the software associated with these, mostly 68K assembler and later C.
Next, time to go it alone! I few of us from the machine tool company had formed into a special projects division and had become aware that industrial vision systems were beginning to become accepted. The machine tool company was not doing well so we formed our own company specialising in vision systems and control systems.
Our aim was to provide vision inspection systems to industry, not just the image processing bit but often the whole systems including the parts handling, conveyors etc. often integrating with other systems.
A lot of project management, system design, mechanical design, pneumatics, electronics, software, PC software, on site commissioning and so on.
Time to move on, a food package inspection system provider next. Not a great deal of electronics work, apart from a few interface boards, mostly software and on-site work.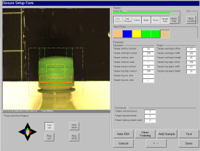 Onwards, customer counting next! Wanting to get more into the electronics side of things again I ended up at a customer counting company. Not the stand outside a shop with a clicker type counting but in-house designed high-tech electronic counting systems. The current systems where getting old and a new range of kit had to be designed. I was responsible for all the work. New systems were designed, proven, CE tested and manufactured. The counting kit was all based around various PIC devices, all electronics, software design, mechanical design and test procedure where all done by myself. As of late 2015 there are over 16,000 of my electronic modules in use twenty-four hours a day, seven days a week dotted around the world.
DCM
The DCM or data collection module was designed to log data from up to 32 channels via multi-drop RS485, a pulse input or a zigbee based wireless system. It can store up to around 4 years of data internally (depending on the number of channels selected) and communicates to the head office via RS232, Dial up modem, GPRS or TCP/IP. It was designed around one of Microchips 16bit dsPIC devices. An engineers socket was provided for local commissioning and testing along with all the configuration software written in VB6.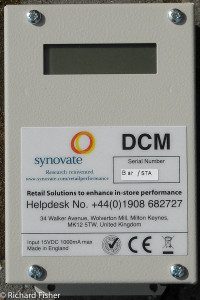 Door sensors
Designed around one of the Microchip PIC18 devices these modules take signals from various infra-red sensors positioned around the doorway and analyse them to provide count and direction. This information would then be polled by the DCM. Fault tolerance (blocked and faulty sensors) was built in so the module would signal an error to head office but would still count if possible.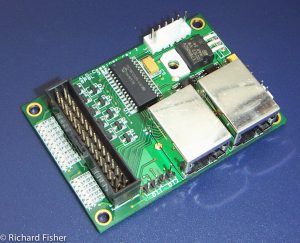 Now!
Some new exciting opportunities came along that were to good to pass up, time to go it alone. As a freelancer/contractor the work is now both varied and interesting.
This has involved some electronics, a PLC replacement [see here for details], some software [see the software section], some system design and testing and some project management/app development to bring the getWaiter! service to market.
More info on the various projects can be seen in the RAKtronics  blog pages.
Electronics skills summary
Design, mostly digital but some analogue.
Interface design.
MCU design, I normally use the Microchip PIC devices but have used others.
PCB design.
Mostly digital but often with some analogue IO conditioning as required.
Most of the boards I have designed are double sided boards, a few single where the design is simpler and a couple of multi-layer boards.
Often working with the final PCB manufacture/assembler to make sure the board falls within their manufacturing capabilities.
For my own projects I have a copy of EasyPC but have used others in the past.
Prototype build and test.
Have assembled many PCBs using through hole and surface mount (not BGA, assembled externally if required) and then carried out full tests to make sure the specifications are achieved.
Prepare for production.
Once a design has been proven it can be tweaked as required to meet cost and manufacturing requirements.
Board level diagnostics and repair.
Ability to fault find down to component level using multi-meters, oscilloscopes, logic analysers and common sense!
If micro controller based can work with the software to create firmware to aid fault finding, stress test and perform basic full board testing.
If you're interested in working with me, contact me here.